Locked Out?
07/19/2015
Back To Blog
Every day is filled with completing one task after another, never really leaving any room to breathe. Since our days are so packed with activities, every once in a while we forget where our keys are - sometimes we leave them inside and shut the already locked door of our home, or lock them inside of our car. Whenever this happens, our first inclination is to panic, but with the lockout services provided by "Locksmith Glendale Heights", you'll no longer have to worry about finding an emergency locksmith.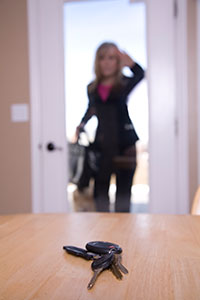 Emergency Locksmiths
You often find yourself with locked out when you need to be somewhere within the next hour, or even sooner. When this happens, you need someone who can come and help at a moment's notice any time of the day or night. Not only that, but you need a locksmith that knows how to install any lock or key. If you lock yourself out of your car, many roadside services offer emergency locksmith services for automobiles. Otherwise, you are looking for someone that can help with a home lockout or apartment lockout.
When it comes to a home or apartment lockout, the process is usually as simple as the locksmith will arrive and unlock the door for you. This process very rarely requires any type of lock change or locks rekey and will take mere moments before your day is back on track. If you are locked out of your car, however, this may require a little more finesse. Since most new vehicles have an ignition chip in their key, getting a replacement key can be expensive. A key without the ignition chip will still open your car door, making it your first option.
Locksmiths are trained to unlock your home without needing new lock installation. Be wary of calling a friend to help when you have locked yourself out as attempting to unlock a door without the key is something only trained professionals should attempt for you.
Overall, being locked out is never any fun. While none of these situations are ideal, there are various methods to help prevent a lockout from occurring again. If your house keys and car keys are on separate chains, consider setting a reminder on your smartphone to grab your house keys at the time you usually leave for work. Not only will this prevent a lockout, it will help you get to work on time. Additional reminders include a note close to the door or inside of the car that prompt you to check where your car or house keys are located.